Keystone jacks are keystone module connectors used in data communication and LAN wiring. It is the female connector that is usually mounted in a wall plate or patch panel and is connected to the matching male connector, called the keystone plug. A keystone module is a snap-in package that is used for mounting various types of low-voltage electrical jacks. It can also be used for mounting optical connectors into the wall plate or patch panel.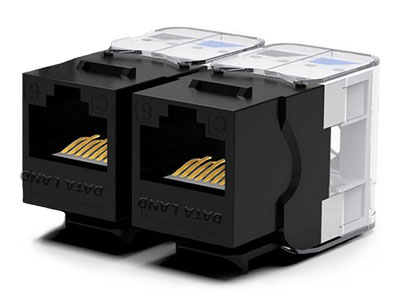 RJ45 Connector Cat 6 unshielded
- Performance categories
Cat 6 and 6A, unshielded and shielded.
- Material
unshielded in ABS plastic.
- Size
height 28 mm, width 18 mm, depth 35 mm Applicable standards. ISO/IEC 11801 Ed3.0, class EA permanent link and channel.
- Connecting Standards
IEC 60603-7-51 Cat 6A connecting hardware: . ANSI/TIA-568-C.2 Cat 6A connecting hardware . PoE++ (100 W) IEC 60512-099-002 . One-piece design and U-shaped cable entry
- Tool-less IDC termination Earthing (shielded)
metallic, 360° self-adjusting, plus drain wire contact Operational temperature range: -40°C to + 70°C
Use Case:
Keystone jacks are extremely useful in data communications. These connectors are usually manufactured in a standardized size for use in patch panels, surface mount boxes, and keystone wall plates.
A Patch Cord also known as Patch Cable, is a form of cable with connectors on both the ends. It is used to connect an end unit to a power source. There are fibre patch cable and Ethernet patch cable, such as LC fibre patch cable or Cat6 RJ45 patch cable, close to the Ethernet cables. Yet patch cables are often used in offices yet electrical wardrobes for short distances.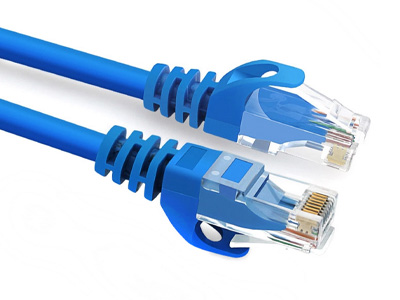 RJ45 Connector and Cat 6 unshielded patch cords
- Categories
Cat 6 and 6A unshielded.
- Material
PVC and LSZH sheath and Pure Copper cores in 4 twisted pairs.
Low Profile Molded boots for high-density applications
- Length
In five length including: 0.3m, 0.5m, 1m, 3m and 5m
- Connecting Standards
Fluke Passed ETL verified to ANSI/TIA-568-C.2 and UL standard in wiring.
drain wire contact Operational temperature range: -40°C to + 70°C
- Colors
In four colors including: Blue, Red, Yellow and Green

Use Case:
A patch cable is a general cabling term that connects two electronic devices, typically in a network that includes computers and other devices. Patch cables are also used to hold telephone, audio and video signals between devices in non-networked applications
0.3m
0.5m
1m
3m
5m
DLPC6U03GR
DLPC6U03BL
DLPC6U03YL
DLPC6U03RD
DLPC6U05GR
DLPC6U05BL
DLPC6U05YL
DLPC6U05RD
DLPC6U10GR
DLPC6U10BL
DLPC6U10YL
DLPC6U10RD
DLPC6U30GR
DLPC6U30BL
DLPC6U30YL
DLPC6U30RD
DLPC6U50GR
DLPC6U50BL
DLPC6U50YL
DLPC6U50RD